FLOATERS
Floaters are small dots, specks or wavy lines that move across the visual field. Floaters are so-called because they are observed to move around when the eye moves. Although they are more common in people over the age of 30, they can arise at any age. They are more prevalent in those who are short-sighted.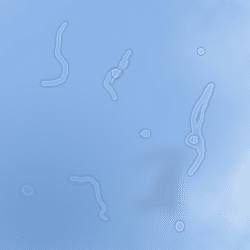 WHAT CAUSES THEM?
The vitreous gel which fills the interior cavity of the eye naturally degrades with age, resulting in it shrinking, condensing and becoming more liquid. This results in floaters which are microscopic clumps of gel, vitreous threads, or cellular debris within the eye. Floaters can also appear as a result of internal eye inflammation.
WHAT ARE THE SYMPTOMS?
Floaters may appear in a fixed spot in the central field of vision in the early stages, which can be rather bothersome. They move more freely as the vitreous degenerates, resulting in them being noticed less often.
FLASHES
When the vitreous gel degrades, it can pull on the retina, causing flashes of light or lightning streaks to appear. These are frequently observed in dim lighting or with the eyes closed. These, like floaters, are mainly caused by the normal ageing of the vitreous gel.
FLOATERS & FLASHES AS SYMPTOMS OF RETINAL TEARS & DETACHMENT
Floaters and flashes are normally harmless. However, as the vitreous gel degenerates and shrinks, it can strain the retina and cause a tear, which may lead to retinal detachment.
A sudden rise in floaters, persistent flashes of light, or persistent blurring and shadowing of a portion of the visual field are early indications of retinal tears or detachment. When this occurs, an eye specialist should be consulted as soon as possible for a comprehensive eye examination.
TREATMENT
Floaters and flashes do not have a specific treatment. They typically diminish on their own over time. Moving your eyes from side to side or up and down will assist to stir the vitreous fluid and shift the floaters away from your field of vision.
The main source of concern is the likelihood of retinal tears or detachment. As a result, if these symptoms have recently appeared or if there is a significant increase in the number of floaters, flashes, or continuous blurring in a portion of the visual field, consult an eye specialist right away.