Have you frequently encounter a tired feeling around your eyes?
Have you received comments that you have a sleepy appearance?
Do you ever feel that there is partial obstruction of the top portion of your vision?
If the answer is 'Yes' to the above questions, you may be experiencing ptosis of the eyelids (droopy eyelids also known as Blepharoptosis).
What is ptosis?
Ptosis is also known as droopy eyelid. It is the sagging of the upper eyelid (margin) position and it can be mild, moderate or severe.
Marginal reflex distance diagram
In moderate to severe ptosis, the eyelid covers some part of the pupil.
What are the symptoms of ptosis (droopy eyelid)?
Vision is partially obstructed at the top part of your vision.
Being told by someone that your eyes always look sleepy or tired.
The eyes appear smaller than before.
An involuntary compensatory mechanism by using the eye brow muscles to lift up the droopy eyelid often leads to tired sensation around the forehead area.
Sometimes, headache results due to tension around the eyebrow and forehead muscles.
In other words, you may not even realise that you have ptosis due to these involuntary mechanisms.
What are the causes of ptosis (droopy eyelid)?
The commonest cause of the droopy eyelid is that of:
Aponeurotic ptosis, which is eyelid drooping due to an ageing/degenerative process of the eyelid's supporting anatomical structures. Aponeurotic ptosis can also be caused by long-term contact lens wear, previous eye surgery or eyelid infections.
Trauma from previous injury to the eyelid region, or even habitual vigorous eye rubbing.
In some cases, one could have been born with ptosis (congenital ptosis).
If there is a sudden occurrence, then it would be prudent to see your eye specialist urgently for further assessment to rule out more sinister causes such as a brain nerve compression or a nerve-muscle junction disorder.
Aponeurotic ptosis can involve one or both upper eyelids. Droopy eyelid is usually a gradual process if it is due to aponeurotic ptosis.
What is the treatment for ptosis (droopy eyelid)?
If you do have ptosis (droopy eyelid), you will likely benefit from ptosis (droopy eyelid) correction surgery. This is done as a day surgery procedure under moderate sedation.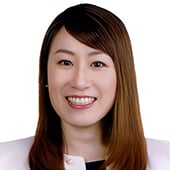 Our Oculoplastic Surgeon  –
Dr Eugenie Poh
Dr Eugenie Poh is the Senior Consultant Ophthalmologist at Eye Max Centre. She was formerly a Senior Consultant Ophthalmologist at the Tan Tock Seng Hospital (TTSH) and is currently a Visiting Consultant at TTSH.
Dr Poh specialises in cataract surgery, glaucoma treatment, retinal disease treatment and the treatment of general ophthalmology conditions. She sub-specialises in oculoplastic surgery, with a special interest and expertise in eyelid reconstruction surgery and lacrimal surgery.
Having completed her specialist training in Singapore, she went on to complete advanced training fellowships in oculoplastic surgery and trained with some of the top oculoplastic experts in the world. She was awarded the Health Manpower Development Plan (HMDP) Fellowship by the Ministry of Health in 2010, and went on to complete a 12-month clinical and surgical fellowship in Oculoplastics, Orbital and Lacrimal Surgery at the South Australian Institute of Ophthalmology, University of Adelaide, Australia. She trained under the mentorship of world-renowned Professor Dinesh Selva, Dr Garry Davis and Dr James Muecke. In Australia, she trained with a special interest in eyelid reconstruction surgery and endoscopic lacrimal surgery for tear duct disorders.